Youth Group- Adult Leader
Caleb & Bethany Pistone
Meeting Time 6:30 Wednesday Evening
Alto Frio Youth Camp is cancelled for 2020 due to the pandemic!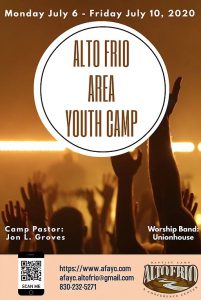 Youth Leader Caleb writes:
February 7th through 8th we took the youth to Hot Hearts youth rally near Austin Texas. It was a fun, yet truth filled short trip with about 400 youth attending from all over Texas.
Danny Lopez was the main speaker at the event and delivered three powerful messages on testing ourselves to see if we are in the faith, and showing how we can grow closer to God. About 50 kids were touched by the message and dedicated their lives to Christ!
The trip was also filled with lots of activities like obstacle courses, card games, and even a bow and arrow war! All of the kids had a great time and hope to go again next year.
A special thanks to all who sponsored the youth, and please continue to pray for all the youth and those at the rally who committed their lives to Christ.